We're happy to announce the release of BusKill v0.5.0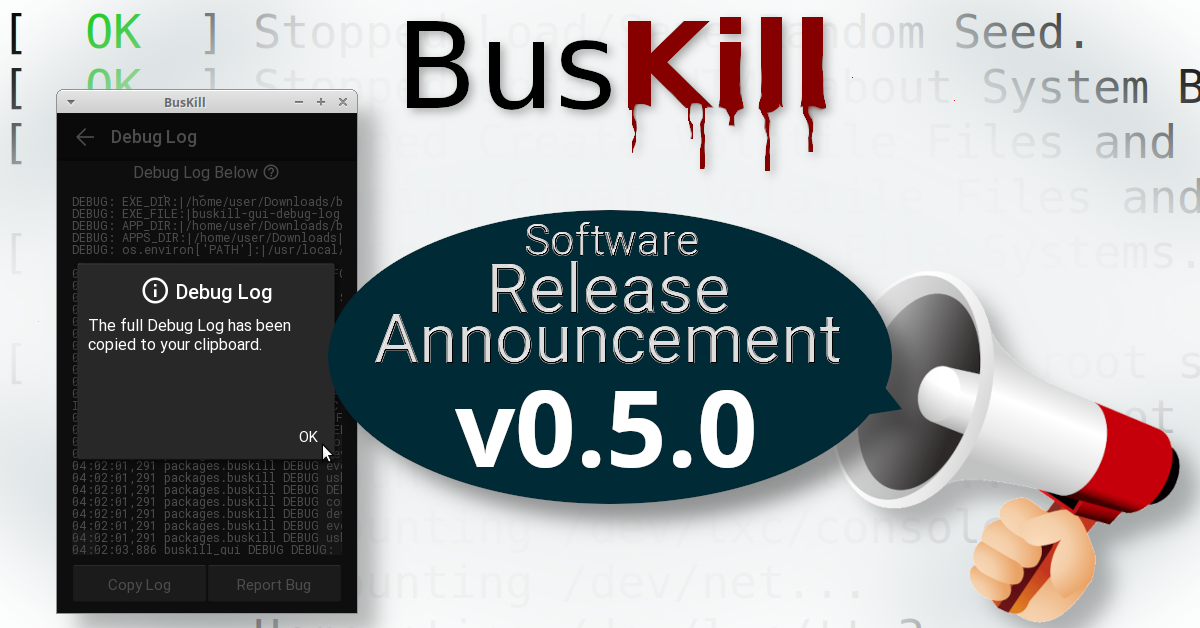 Upgrading
You can upgrade your BusKill app to the latest version either by
Clicking "Update" in the app or
Downloading it from GitHub
Changes
This update includes many bug fixes and new features, including:
Added FUNDING.yml to GitHub for donations since we were accepted by Open Collective
Added a new "Debug Log" screen to display and copy the runtime Debug Log in-app. This will make it easier for us to debug issues when a user reports a bug.
Various improvements to the build scripts
Adds warnings to Pull Requests containing potentially malicious unicode (Trojan Source)
Updates our PGP KEYS
Updates CI process to download libusb1 at build-time, now that Vincent Pelletier is signing python-libusb1 releases
Adds a script to create the files to be copied onto the BusKill USB Storage Drive sold with the BusKill cable
You can find our changelog here:
And you can find a complete diff of all the changes from v0.4.0 to v0.5.0 here:
Documentation Improvements
We've also made many improvements to our documentation
Testers Needed!
We do our best to test the BusKill app on Linux, Windows, and MacOS. But unfortunately it's possible that our app doesn't fully function on all versions, distributions, and flavours of these three platforms.
We could really use your help testing the BusKill app, especially if you have access to a system that's not (yet) listed in our Supported Platforms.
Please contact us if you'd like to help test the BusKill app 🙂
Manufactured Hardware Progress
It's been almost two years since our last software release. This has been primarily because software development has been secondary to our work on the hardware (which is much harder and slower than software!).
We're very happy that our crowdfunding campaign successfully raised $18,507 earlier this year. After fees and Crowd Supply's cut Alt Shift International OÜ (the company we've partnered with to manufacture and sell BusKill cables) received €13,150.68 in February 2022. This funding allowed ASI to build injection mold plates, manufacture the magnetic breakaway cables, sample & order other components, build kits, rent warehouse space, stock inventory, etc.
As work is now finished on manufacturing and the first production round of products are almost finished being stocked at ASI's and their distributor's inventory with BusKill cables, we'll be publishing an update with more detail about the work on our open-source hardware shortly.
We hope to return primarily to software development soon!
3D-Printable Hardware Progress
You can also track the development of our 3D-Printable hardware designs on GitHub here:
Stay Updated
To get email updates about future releases, you can subscribe to our newsletter