Today, we're happpy to announce that there's a new way to browse our website more securely and anonymously. To do it, you'll need a bit of software called the Tor Browser
After the Tor Browser is installed, copy and paste this URL into the address bar to load this website:
buskillvampfih2iucxhit3qp36i2zzql3u6pmkeafvlxs3tlmot5yad.onion
Besides the obvious anonymity benefits--allowing our customers to purchase our products anonymously--we chose to make our website accessible at the above .onion address to take advantage of tor's superior Public Key Infrastructure to the clearnet's flawed x509 model (read: it's more secure).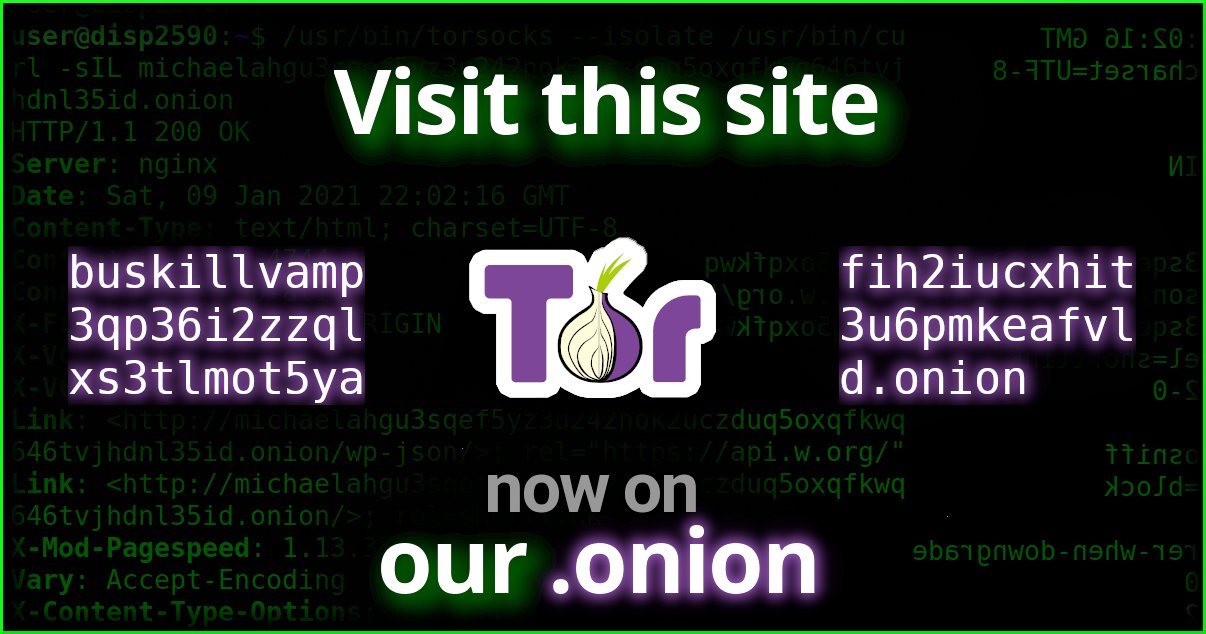 Instead of using the untrustworthy X.509 PKI model, all connections to a v3 .onion address is made to a single pinned certificate that is directly correlated to the domain itself (the domain is just a hash of the public key + some metadata). Moreover, some of the most secure operating systems send all the user's Internet traffic through the Tor network -- for the ultimate data security & privacy of its users.
In short, users are much safer when communicating directly to a website using a .onion domain than its clearnet domain.
We've always made sure that our site's content was fully accessible to Tor Browser on strict mode. Unlike other popular websites, we would never use Google reCAPTCHA or blanket block Tor exit nodes.
We want and encourage our customers to be able to use all of our services over Tor. And by adding our service over an Onion Service, our customers with a healthy distrust for the X.509 PKI can take comfort in knowing that accessing our website through our Onion Service address will give them end-to-end encryption using our Tor-generated certificate.
You can buy a BusKill cable with bitcoin, monero, and other altcoins directly from our BusKill Store's Onion Site:
You can also buy a BusKill cable with bitcoin, monero, and other altcoins directly from our Clearnet BusKill Store: